Kontakta oss
för mer information...
Har du frågor eller funderingar
om våra hundar, eller är intresserad
av en valp är du välkommen att ringa
oss eller skicka ett mail.
Contact
for more information...
If you wish to have some information
in english about our dogs our maybe have
a puppyrequest feel free to contact us
by phone or e-mail.
070-1464104
emperix@tele2.se
Ralph Lindberg
Fredrik Forsberg
Sundsvall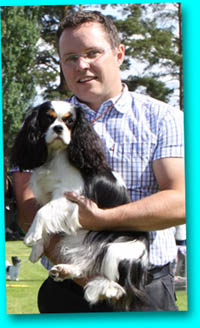 Ralph med Sanickro Genie Magic 2009
0046-70-1464104
emperix@tele2.se
Ralph Lindberg
Fredrik Forsberg